BEST SMARTWATCHES
The wearable technology revolution is here! Smartwatches are now everywhere, ready to be the device that strikes the perfect balance between fitness tracker and smartphone. And while you may not think you need yet another screen in your life, it's worth reconsidering because the right smartwatch can help you reduce your overall daily screen time by streamlining the key information you need.
Smartwatches come in all shapes, sizes, and colors — and are often designed to add functionality to specific smartphones. For example, most smartwatches are built to be used with Android-based devices, and the Apple Watch works best with iOS devices, although many smartwatches (like Garmin's extensive product line) are agnostic and compatible with any mobile device.
Whether you're looking to track key health metrics, conveniently communicate with friends and colleagues, or extend your smartphone's battery life by redirecting your most important notifications to your wrist, a smartwatch is the best way to make it happen.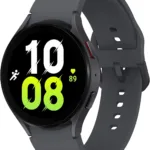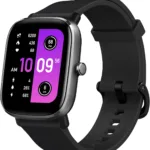 SMARTWATCHES VS. FITNESS TRACKERS
Up until a few years ago, smartwatches and fitness trackers were decidedly different product categories. But as each has evolved, the lines have blurred. Smartwatches now include fitness-tracking functionality by default, and most fitness trackers can receive smartphone notifications and interact with smartphone apps.
So is there a difference between a smartwatch and a fitness tracker? Sort of. Smartwatches are designed to run apps from your phone, including fitness apps. They're perfect for taking fitness further if you have a workout app you love, but because they're also running a lot of other apps, they usually only last a day or two on a single charge. To put it another way, smartwatches extend the mobile experience from your phone to your wrist. That's good for functionality, but it's not so good for battery life.
Fitness trackers, on the other hand, are built with one primary goal in mind: helping you stay fit. Fitness trackers are more affordable and often include basic smartphone connectivity, so you can receive mobile notifications, but they rarely include features like the option for LTE mobile internet access. Fitness trackers can sometimes last up to a week on a single charge, which is no small feat when compared to their smartwatch equivalents.
Amazfit [2022 New Version] GTS 2 Mini Smart Watch for Men Women, 14-Day Battery Life, Alexa Built-in, Health Fitness Tracker, with GPS & 68 Sports Mode, Blood Oxygen Heart Rate Sleep Monitor, Black
Click images to find more….
Garmin Venu Sq Music, GPS Smartwatch with Bright Touchscreen Display, Features Music and Up to 6 Days of Battery Life, Black
EXPERT TIP
If your smartwatch alerts you to a health concern, don't dismiss it–it could be an early warning for something serious. Follow up with your physician to learn more.
Health Monitoring
These days, smartwatches can provide you with a variety of health data. Some models can even monitor blood oxygen levels and ECG information, which may give you an idea of when you need to seek medical attention. If you have particular health concerns, you may want to consult with your health care provider about which health monitoring features will be most beneficial for your situation.
Battery life
There are few things more frustrating than a watch that stops working in the middle of a busy day, so it's important to get one that lasts as long as you need it to. Look through user reviews to get real-world battery life estimates on different smartwatch models.
TIPS
Before you buy a specific smartwatch, look up the manufacturer's typical product cycles, just in case a new version is expected soon. In a lot of ways, smartwatches are like smartphones — new iterations come out every few years with innovations and improvements that are worth waiting for. If there are some killer features you're looking for, sometimes waiting for the next generation is the smart move. On the other hand, if a new version is coming soon, you're more likely to find massive discounts as retailers look to liquidate their stock of current models. The more aware of product release cycles you are, the more likely you are to find the perfect deal for you.

If the smartwatch you want requires a proprietary charging cable, buy an extra one. Some smartwatches have their own charging cable interface, so they can't be charged with standard micro-USB cables. No matter how your smartwatch gets powered up, keep a spare cable at your desk or in your bag — you never know when you're going to need a charge on the go.